As her Majesty the Queen's Platinum Jubilee was being celebrated in the UK with such excitement and joy, over in Colombia it was also being celebrated with great enthusiasm. At Casa Walsingham In Medellín, the children and staff of Funvini were busy with their preparations to do the same! 
Funvini's children have always been told about the UK and Queen Elizabeth, and her picture hangs in Casa Walsingham, for most of the money that helps them comes from there. At the time of the Queen's Diamond Jubilee they acted out the Coronation and enjoyed various celebrations, and afterwards a letter and a selection of photos was sent to her Majesty.  In due time Funvini received a letter of thanks from a lady-in-waiting saying that her majesty had enjoyed seeing them and sent her thanks. That too hangs on the wall at Casa Walsingham. 
So, having heard Fr Peter mention  the Platinum Jubilee our staff were curious and asked him to tell them more about it. He told them what it meant and described how the people of the UK were planning to celebrate. They were fascinated by what they heard and said they would like to arrange something along similar lines  for the children. There were a few things they needed help with, such as getting hold of bunting, royal pictures and posters  etc– so Fr Peter took on the job of buying these in the UK and took them back to Colombia after one of his earlier visits here. To their surprise and joy he even took them a life-sized figure of the Queen!  The rest was up to Funvini's staff and you can see what a good job they did by browsing through the photo display below.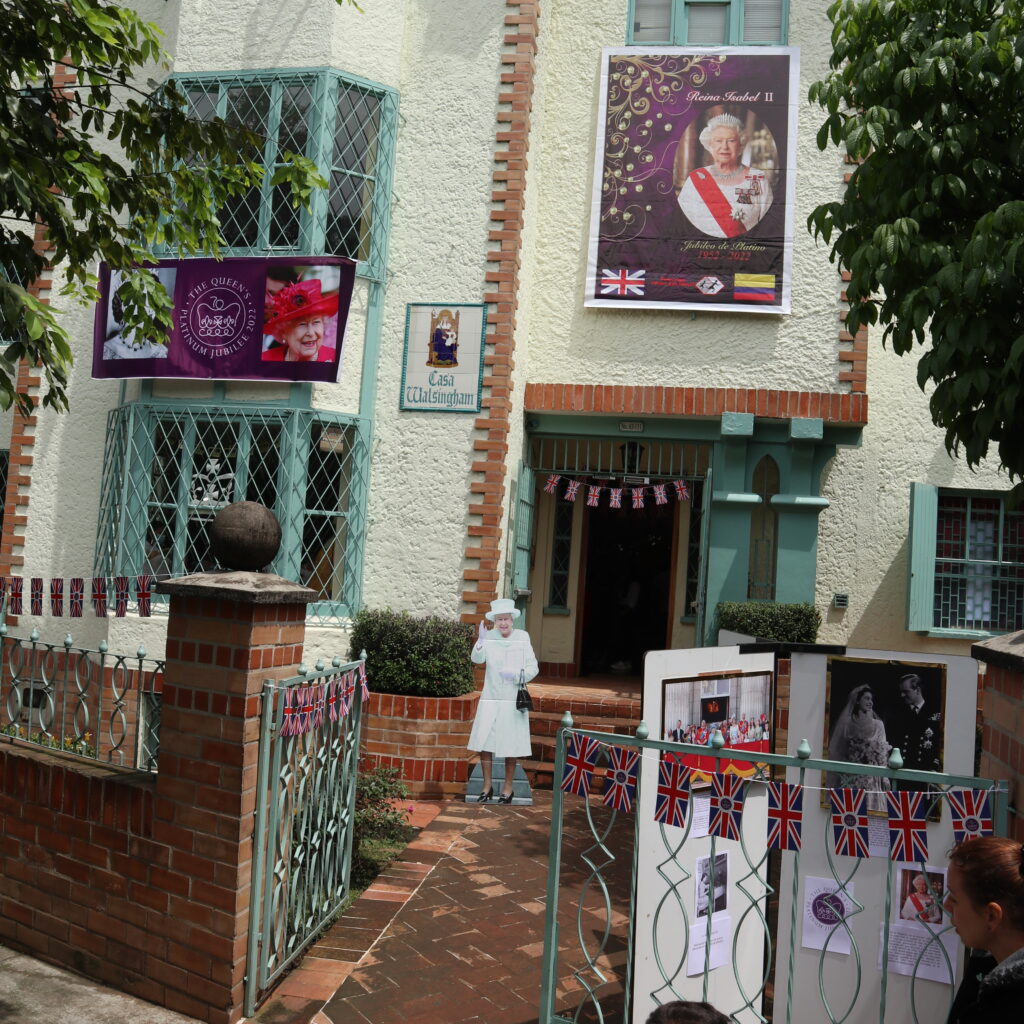 The house was decorated inside and out.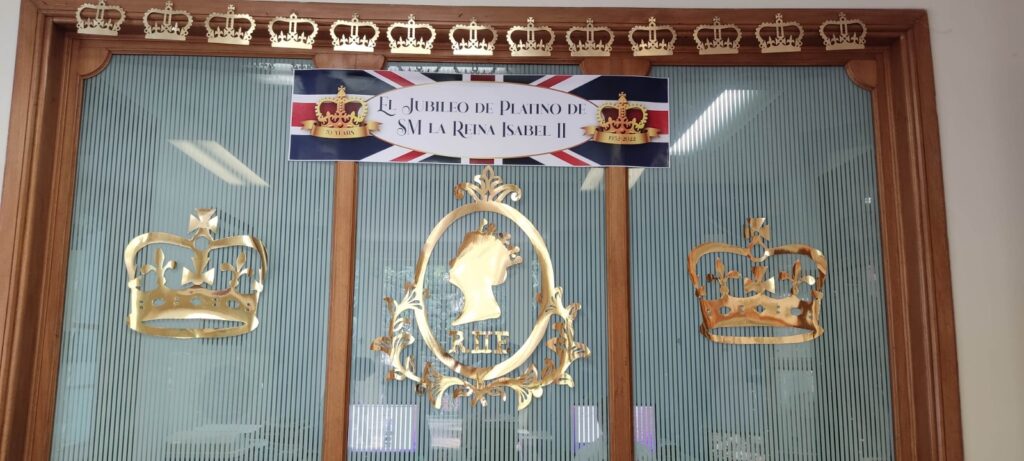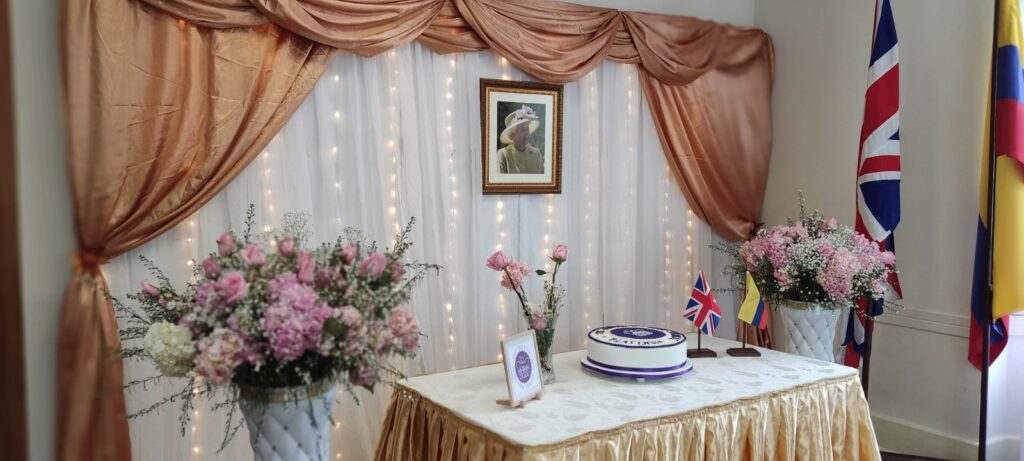 Inside Casa Walsingham was a hive of activity as the children performed  a play about the Coronation.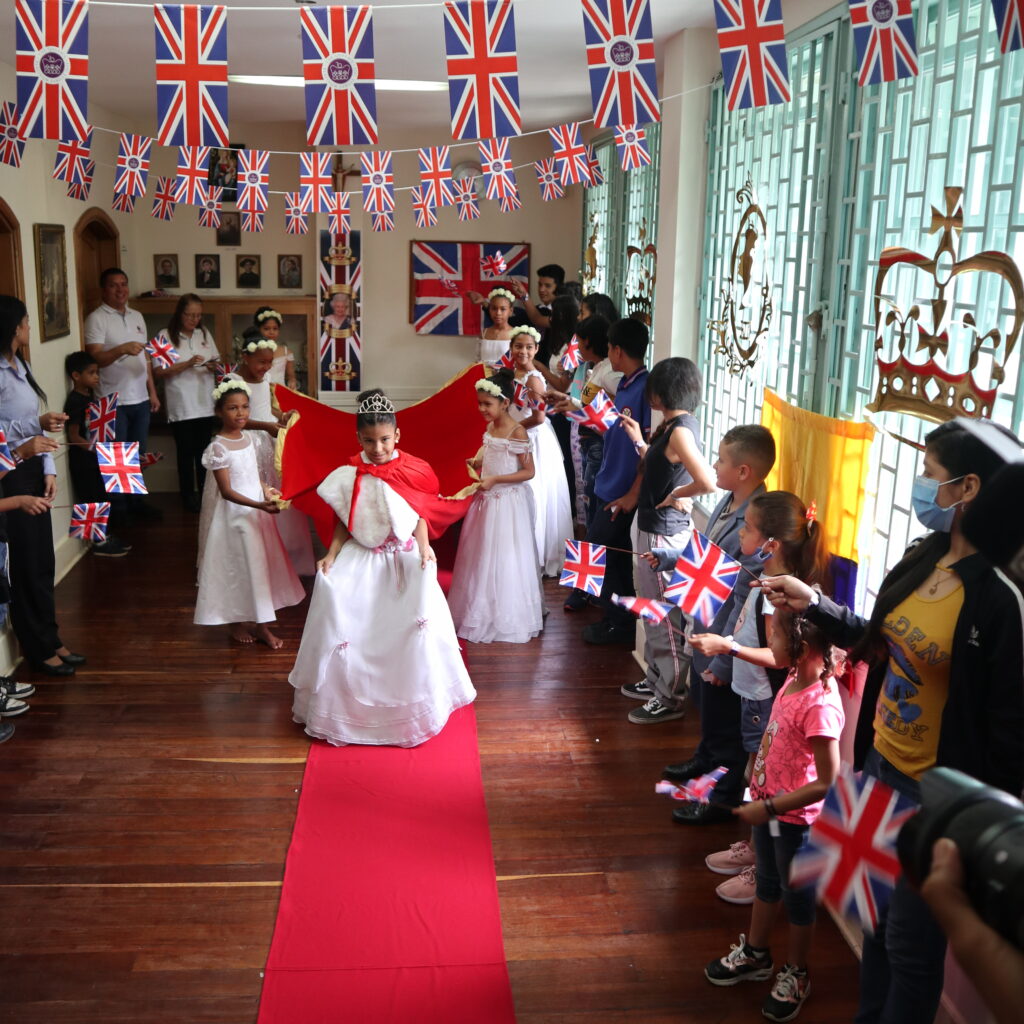 AND THE QUEEN WAS CROWNED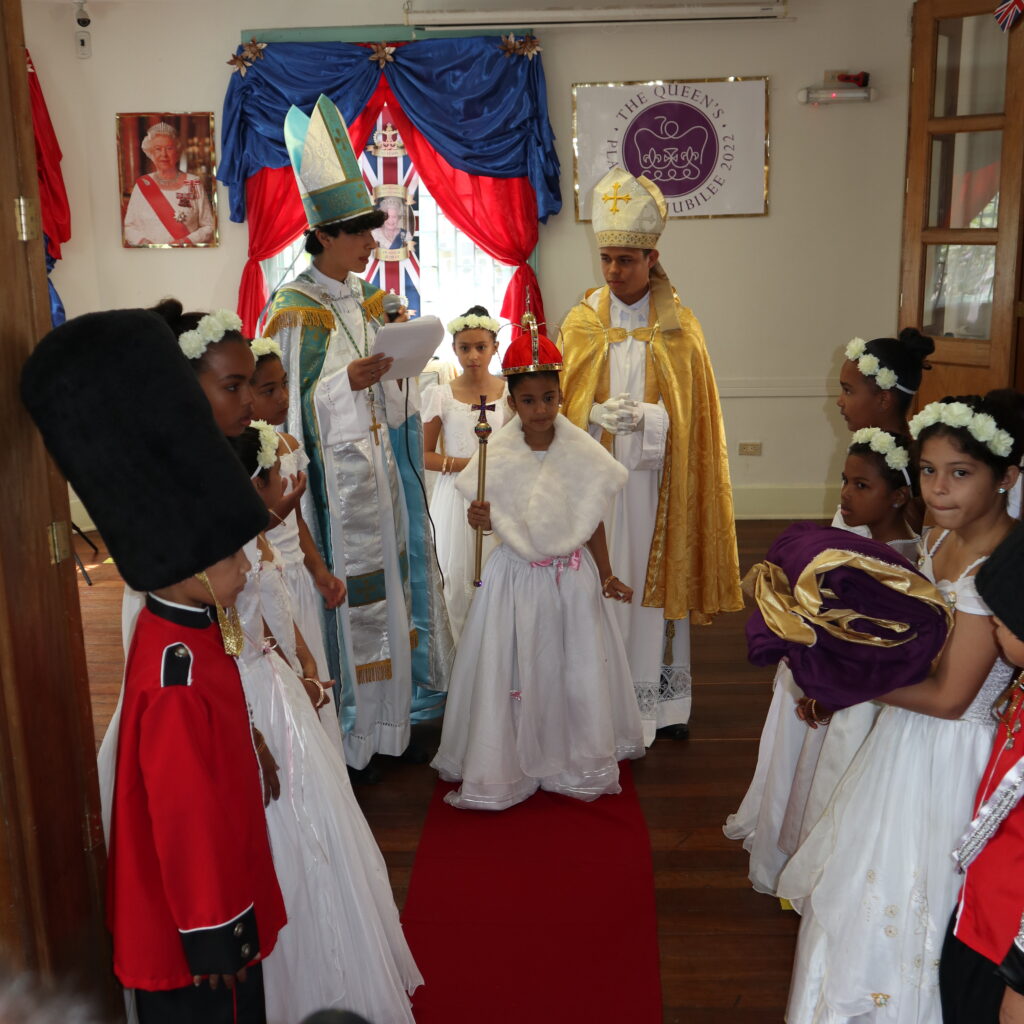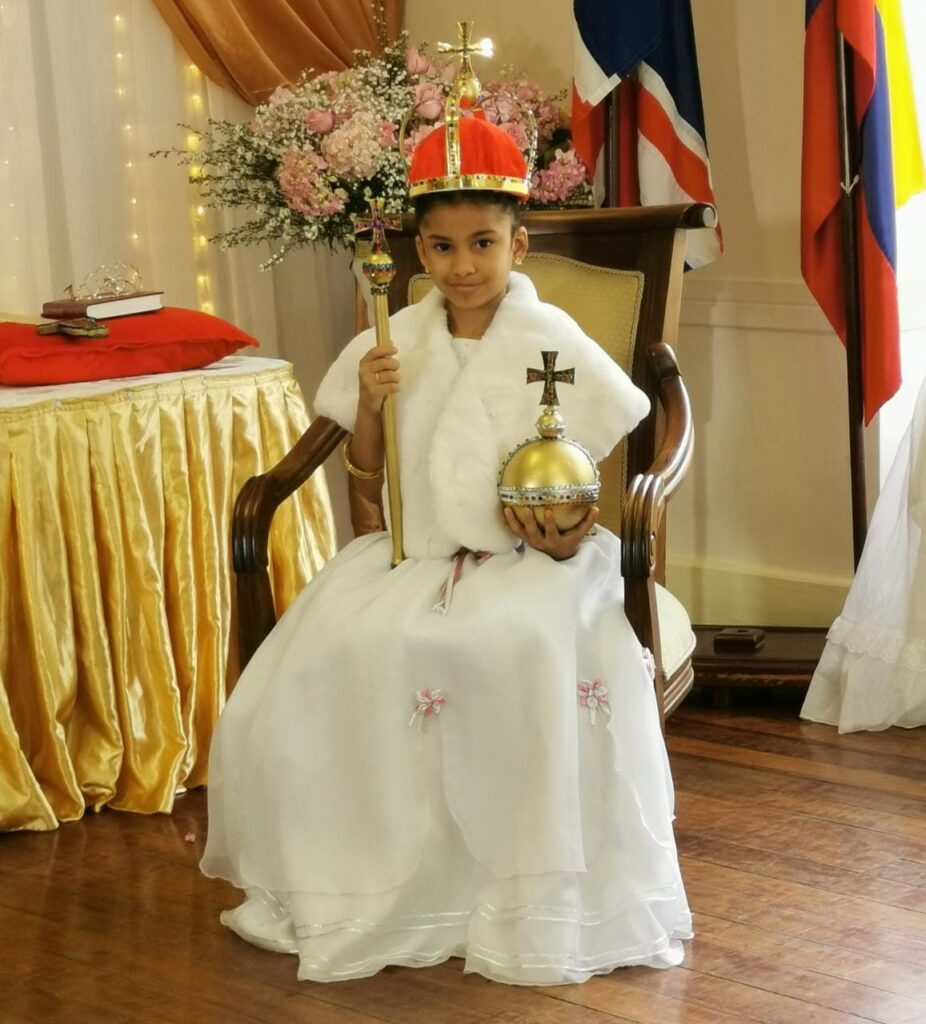 There were many attendants—–and a CAKE!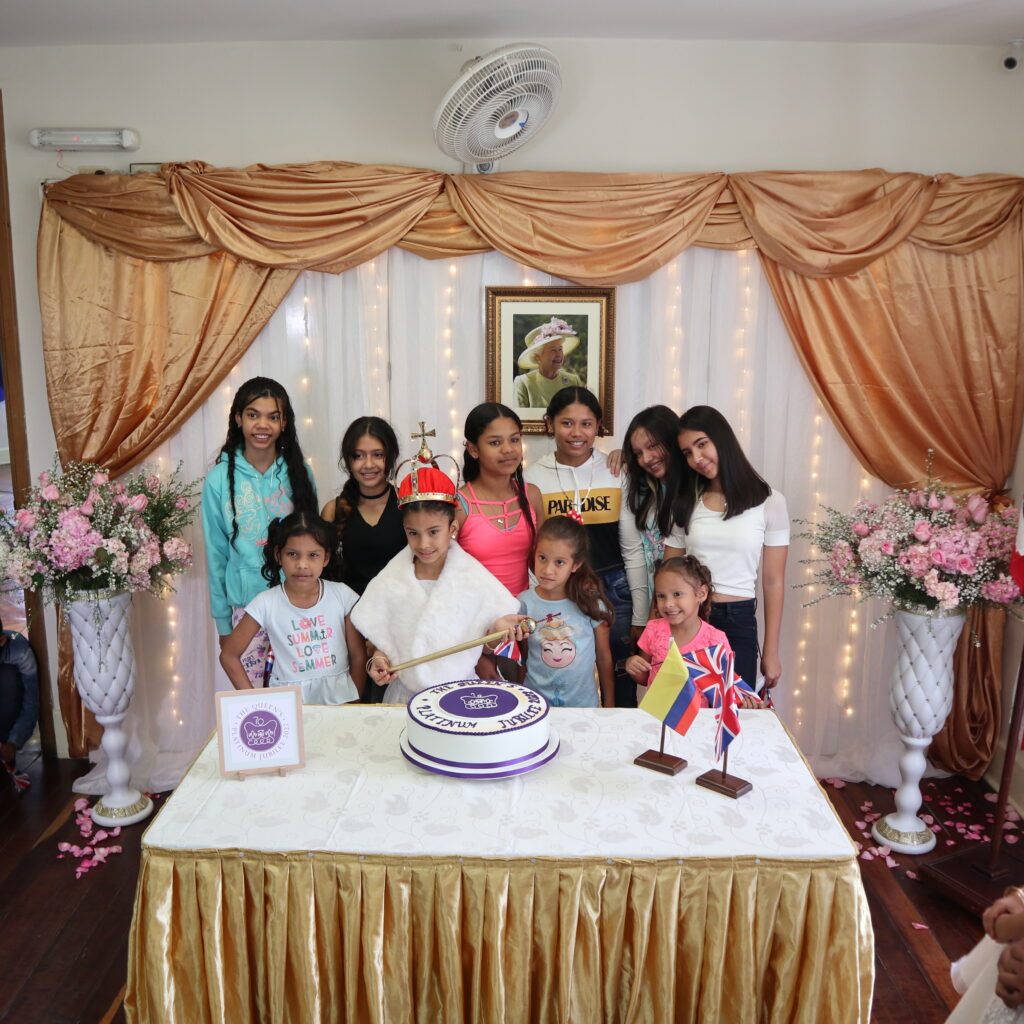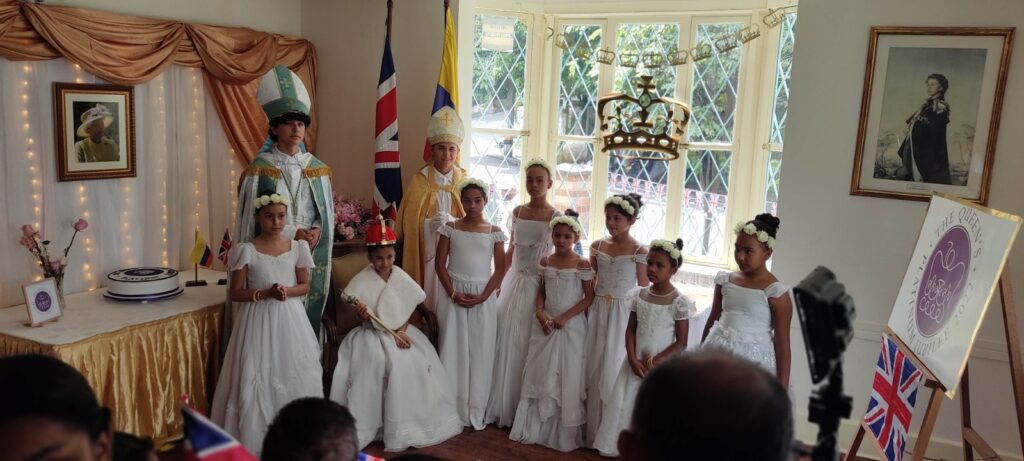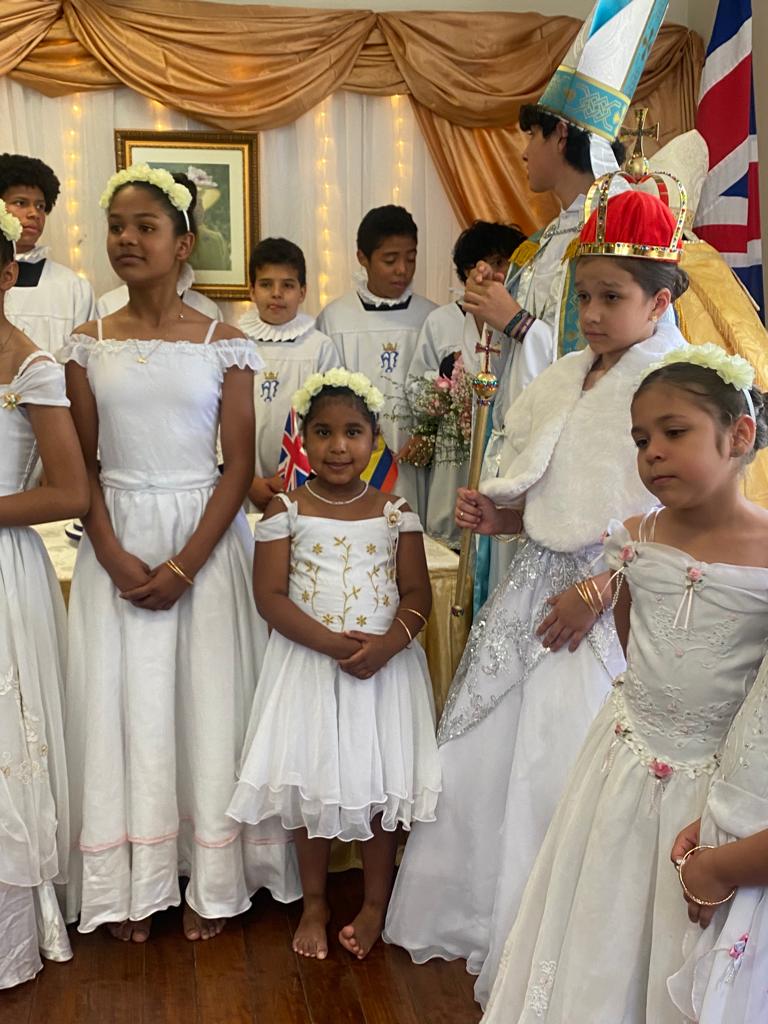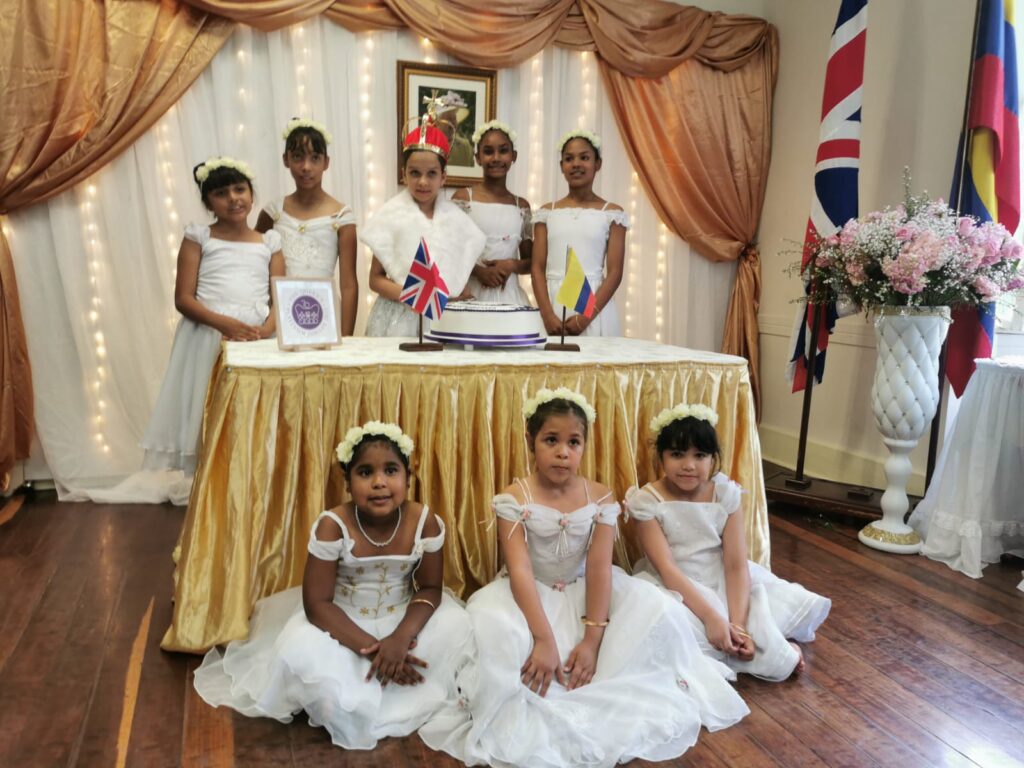 and two Boy-Bishops and Guards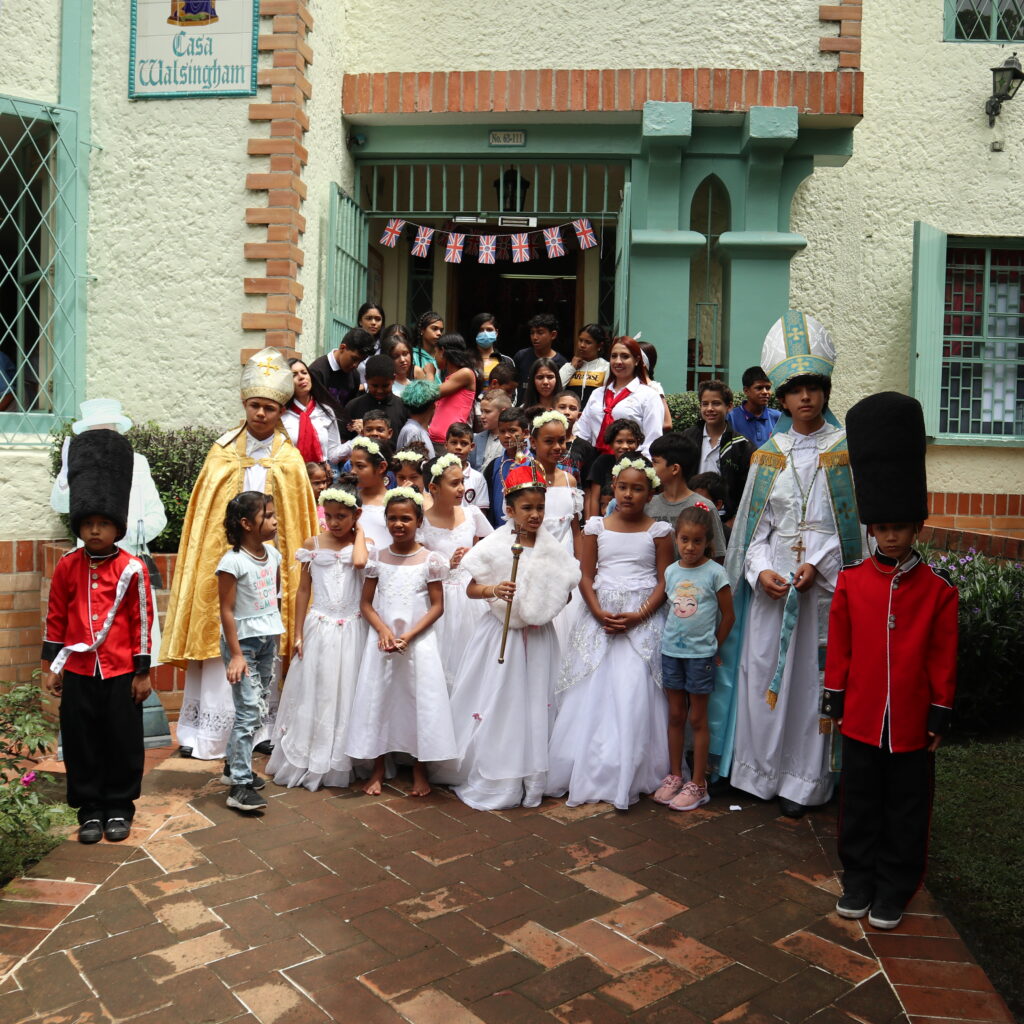 Then followed celebrations with lunch and soft drinks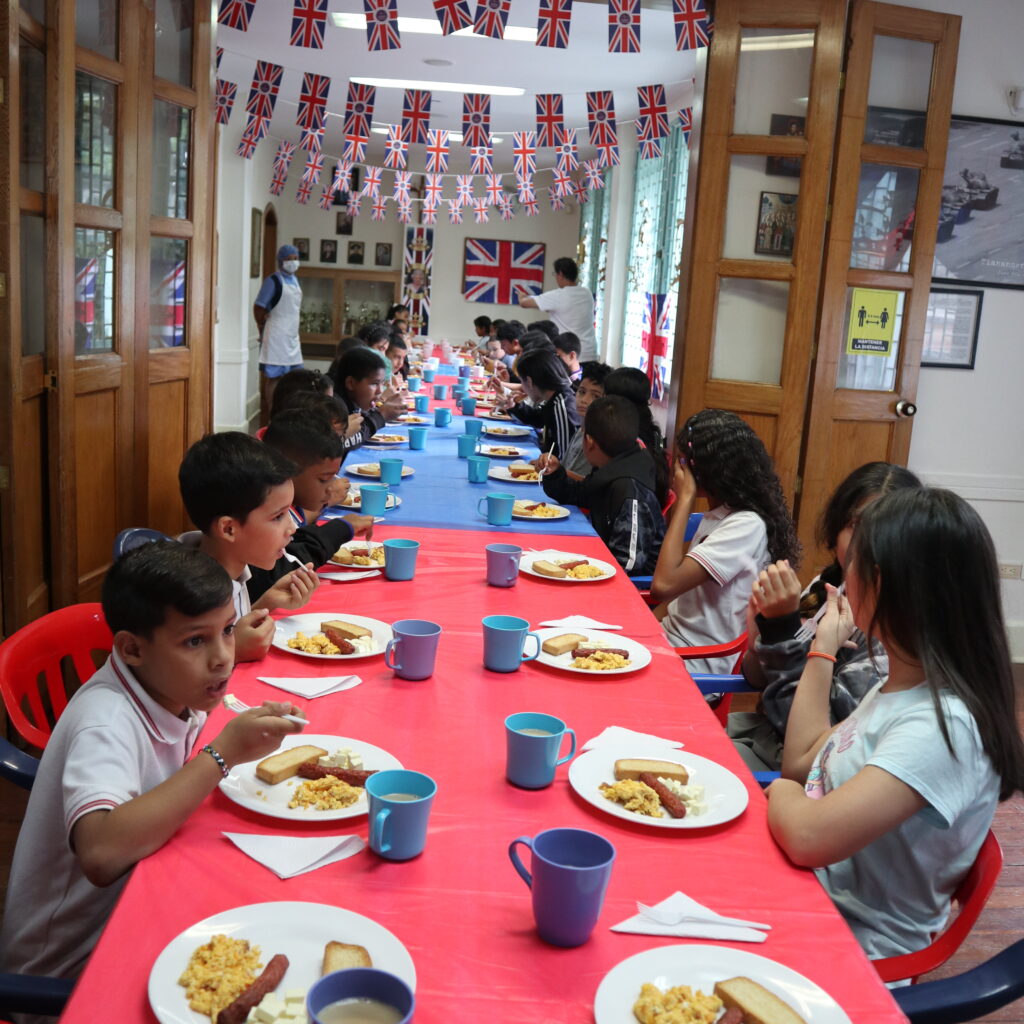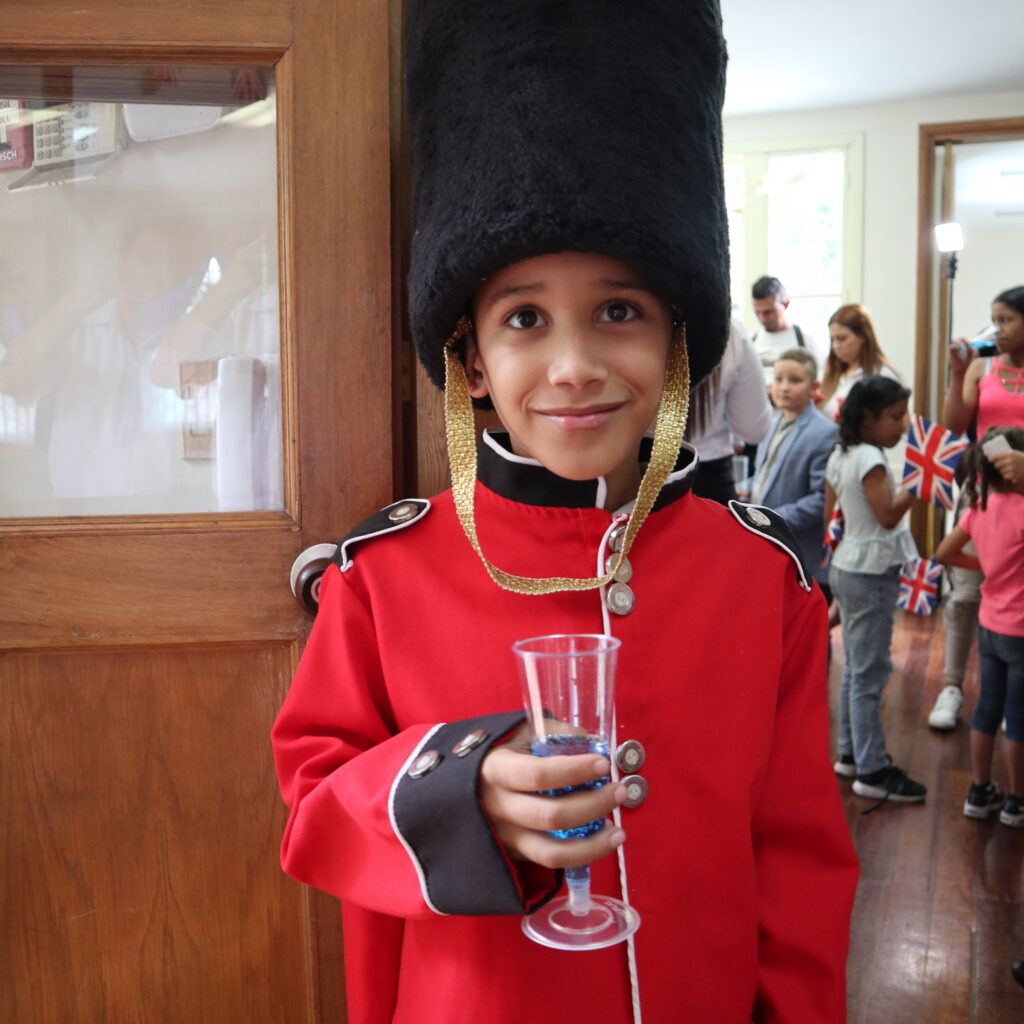 AND PRESENTS!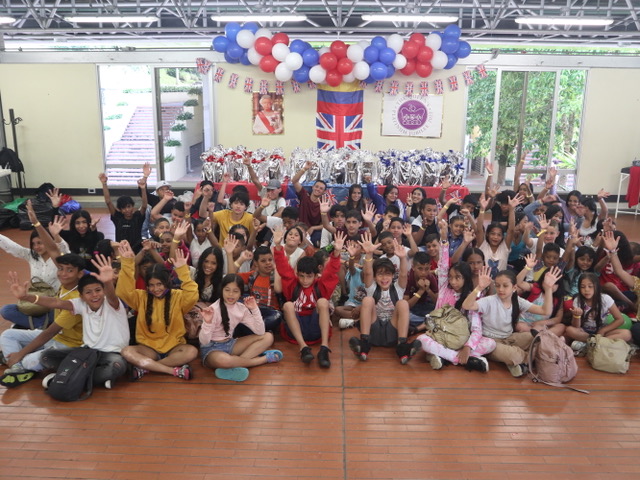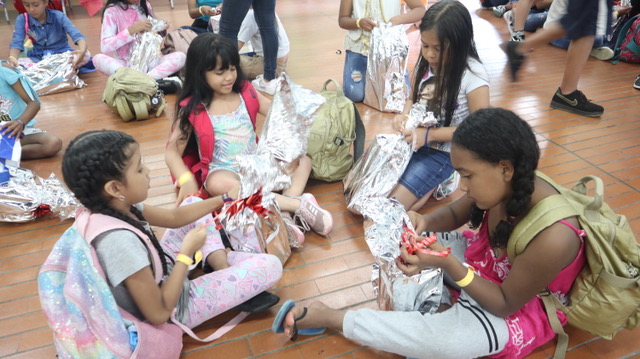 FOR ONE LITTLE BOY A PAIR OF NEW SHOES MADE HIS EYES SPARKLE WITH JOY!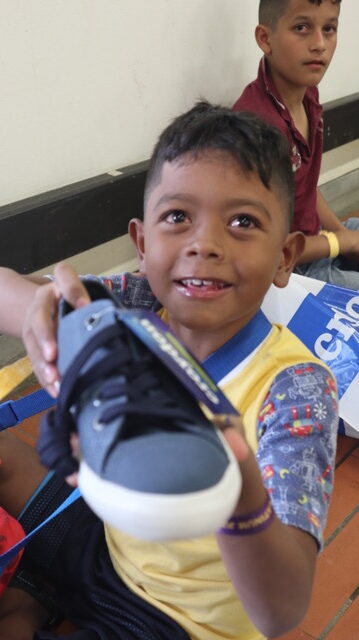 AND FINALLY THERE WAS A DAY OUT AT A WATER PARK.
OUR CONGRATULATIONS TO HER MAJESTY QUEEN ELIZABETH II