Buy our NEW CD–PASABOCAS–£8.00 plus P&P £1.00 from 01302 858369. Listen to an extract on the link below.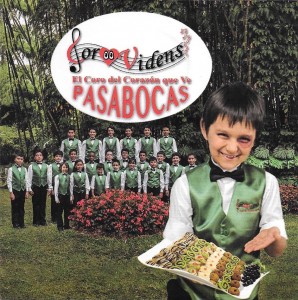 There are many ways in which you can help us to help the street-children and so become part of this work. Some involve hard work, but we hope they will also involve you in having fun.
Obviously we need money to maintain our work in Colombia so most, though not all, of the following suggestions do involve it.
Prayers please!
Support us with your prayers. This, after all, is God's work and first and foremost we need His help so your prayers are extremely important. Pray for Fr Peter and all our staff. Pray for our children and all the children in the streets and shanty towns. For those who would like specific prayers an Intercession sheet is available twice a year upon request. Write or email us.
 Donations
Many people support our work by sending donations, either singly, or on a regular basis through a Standing Order. Those who can do so Gift-Aid their donations, thus enabling us to reclaim the tax they have paid on it. If you are a UK resident and pay UK taxes you can enable Let The Children Live! to get a considerable sum back from HMRC, increasing your gift by 25%. You will need to fill in a Gift Aid Declaration Form, and these, plus any other information you require, can be obtained from our Walsingham address or by e mailing us. You can also make a donation on-line with your credit or debit card, through Enthuse. You can access this from any page on the web-site.
Please note:
Enthuse, the company that provides our on-line donation facility, offers charities like Let The Children Live! a variety of useful services and tools for which it charges us a flat, annual fee. Like many other providers of such services, Enthuse asks on-line donors to consider making a separate, additional donation to help it to cover its costs.  Although making such a gift to Enthuse is entirely voluntary, it may not be immediately obvious how to opt out of making it.   If you wish to opt out, please choose the option 

Other

 in the drop-down menu on the second page of their site, and then enter 0 in the box that opens beneath it.  Rest assured, your donation to Let The Children Live! will go through whether or not you decide to make a gift to Enthuse.
 Invite a Speaker
Our most valuable contact with people comes when we are invited to speak about our work in parishes, schools and clubs. Such invitations give us the chance to publicise our work and to make appeals for financial support. However, there is a great deal of competition for such engagements and they are getting more and more difficult to find. One very valuable way of helping our work would be to approach your parish priest, vicar or minister and tell them about Let The Children Live! Ask if they would be prepared to agree to a visit and allow an Appeal. We can supply you with literature. Or, you may have contacts with local schools and would be prepared to speak to the Headteacher or Head of RE and suggest a visit. Or maybe you have links with clubs such as Lions, Rotary, W.I., Inner Wheel etc and could suggest a visit to them. If you require any literature or need to make a booking please send an e-mail or ring 01302 858369.
 Pass the word on–become our PUBLICITY AGENTS!!!
Tell other people about our work. Raising and maintaining awareness of Colombia's street-children is vitally important. Relatively little is heard about them in the media so we must be their voice. Pass on our literature to your family and friends. Make our work known wherever you can and you will be playing an important part in helping the children.
Join a Support Group
Let The Children Live! has several Support Groups around the country. These groups help to make the work of the charity more widely known and raise money to support it. If you live near one of them maybe you would like to join it and help us in that way. Or, if you don't live near any of the Groups, why not think about forming your own Group? The present Groups are based in Walsingham, Leicester, Kingswinford, Torbay, Birtley ( nr. Newcastle ) and Doncaster. For more details please contact us by e-mail, phone or post.
Hold a Tea-Party, a Lunch or an 'At Home Day'
Some of our supporters have already done this to raise money for us and they had very successful and enjoyable events. Why not think about organising one yourself? We can supply you with literature and photos ( but sorry, not the food! )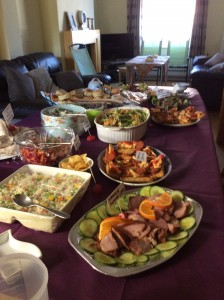 OR A BARBECUE
On Monday 17th July Maria Greig, assisted by her husband Neil, organised another one of her annual Barbecues to raise much needed funds for our charity. She was very fortunate that it was a lovely warm day and extremely hot in the corner of their garden where Neil was cooking lots of burgers and sausages.Their entire garden and house was taken over by the BBQ as just over 90 people turned up to enjoy the day and to eat their burgers and hot dogs at the tables that were laid out in the garden.
Besides the barbecue there was Tombola within the house.The event lasted most of the day and evening and the last  of the guests left about 10.30pm.A total of £1200 was raised for LET THE CHILDREN LIVE! This was about half of the overall total and the other half of the takings was shared with another charity.
Maria has been organising these BBQs for several years now and she has raised almost £5000.What made her decide to support Let The Children Live! in such a big way was hearing Father Peter speak at one of his Parish Appeals in the parish of St Aloysius, Chapelhall in the diocese of Motherwell.She was so impressed with Father Peter and the work he was doing among the street children in Medellin, Colombia that she wanted to do something more than just putting her donation in the plate at the end of Mass. Quite often we do not know what others are doing for the charity after hearing Father Peter appealing to them. So a big thanks to Maria and Neil for their continued support for our work which is making a big difference to the lives of many children.
(Reported by George McAleenan who was at the Barbecue)
Volunteers
From time to time we receive requests from people who feel they would like to volunteer to go out to Colombia to assist our work and in the past we have been grateful for such help. However, the situation in Colombia is currently unstable and the violence is on the increase again. Unfortunately, Let The Children Live! is not in a position to be able to safeguard volunteers against the very real dangers that exist at the moment and, therefore, the Trustees have decided that we cannot consider taking volunteers at this time. 
 DIY
Try fund-raising yourself. There are lots of things you might do and although arranging an Event is usually hard work, the Event itself can be a good social occasion, often combinig lots of fun and laughter with valuable fund-raising. We can supply Display Material upon request.
 Shop around!
Support our shop! In the pilgrimage centre of Little Walsingham in North Norfolk you'll find our charity shop, No 38 High Street, selling all manner of good things and you could be forgiven for mistaking it for a boutique instead of a charity shop. Many a bargain has been found here!  A warm welcome is assured and you'll enjoy browsing round the various rooms, searching in cupboards and drawers……..Click on the next page, "Our Shop In Walsingham", for pictures. The new CD, Pasabocas, is available there for just £8.00!
Listen to another extract on the link below.
 www. dragonsforbreakfast.com
This website shows the work of a group of people based in Luxembourg who regularly run workshops for young people who enjoy working with clay. They make clay dragons, fire and paint them, and sell them online. Each dragon is named after the person who made it. All profits from the workshops and sale of dragons is given to Let The Children Live! Check out their website. Treat yourself to a dragon!
 Sell on Ebay
We are now registered with Ebay so if you have something to sell, sell it for Let The Children Live! Just go to our page on Ebay.

Justgiving
You can help support our work by donating through Justgiving. To do this, just click here.
Our Children—Your Heirs…..Remember us in your Will
Our children could be your heirs…..have you thought of this? When you die you could save the life of a child, indeed many children. Please keep this in mind when making, or updating your Will.
Form of Bequest: "I give………………………to Let The Children Live registered charity number1013634 I direct that if any charity shall have for any reason ceased to operate or exist at the date of my death then this gift shall be applied by my executors to any charity or charitable purpose the trustees of the charity shall have determined the assets of that charity should be applied to whether before my death or otherwise including any charitable company they shall have resolved to establish and which has taken over the undertaking of the charity" (Please note that no punctuation is usually used in the drafting of a Will. This is a technical legal document, and in order to ensure its validity it should be drawn up with professional advice, and signed and witnessed in exactly the prescribed manner.)